Quality Enhancement Cell (QEC)
Introduction
The Quality Enhancement Cell (QEC) is headed by a Head, reporting to Principal NCA, Lahore. The Quality Enhancement Cell has been established at NCA Lahore, November 2010. It is entrusted with the task to promote education for effective management of standard of and quality of programmes at all levels. It requires developing quality assurance processes and methods of evaluations that the quality of provision and standards of NCA education are well maintained and being improved. It includes curriculum development, subject and staff development together with research and other activities. Further, the academic activities of the NCA will be monitored by quality assurance agency (QAA), HEC through QEC.
Quality Assurance
It is observed that almost all the national universities, have similar scheme of studies for respective degree programs with minor variations, thanks to the information sharing in the age of IT. But the quality of outgoing graduates from these universities is conspicuously variant. We need to accept, that most of the universities here do not meet the international quality criteria. It is this dismal state of affairs, where most of our efforts need to be focused. This is the only way to achieve value addition, international competitiveness and consequently, socio-economic up gradation. Seemingly, this idea became the founding stone of the QAA, formed by the HEC. It has evolved well organized policies with quantifiable parameters of quality, required to enhance the educational standards in Higher Education. QAA is leading this movement for assuring and enhancing Quality of Higher Education in the country. QAA is guided and advised by the Quality Assurance Council for framing requisite policies and programs. Establishment of QEC's at all public and private Universities and Higher Education Institutions, is part of this process. QEC's at the Universities will be headed by professionals, equivalent to the status of a Dean, and will be directly responsible to the Principal/President/Rector/Vice-Chancellor. In phase IV of this project, a QEC has also been established at NCA in November 2010.
Structure Of QEC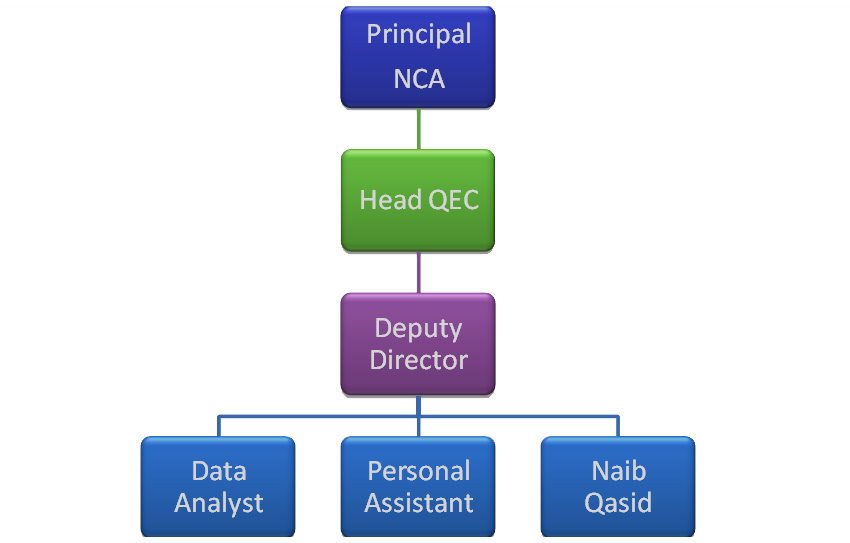 Functions Of QEC
1.

QEC is responsible for promoting public confidence that the quality and standards of the award of NCA degrees are enhanced and safeguarded.

2.

QEC is responsible for the review of quality standards and the quality of teaching and learning in each subject area.

3.

QEC is responsible for the review of academic affiliations with other institutions in terms of effective management of standards and quality of programs.

4.

QEC is responsible for defining clear and explicit standards as points of reference to the reviews to be carried out. It should also help the employees to know as to what they could expect from candidates.

5.

QEC is responsible to develop qualifications framework by setting out the attributes and abilities that can be expected from the holder of a qualification i.e. Bachelors, Bachelor with Honors, Master's, M.S/M. Phil., and Doctoral.

6.

QEC is responsible to develop program specifications. These are standard set of information clarifying what knowledge, understanding, skills and other attributes a student will have developed on successfully completing a specific program .

7.

QEC is responsible to develop quality assurance processes and methods of evaluation to affirm that the quality of provision and the standard of awards are being maintained and to foster curriculum, subject and staff development, together with research and other scholarly activities.

8.

QEC is responsible to ensure that the university's quality assurance procedures are designed to fit in with the arrangements in place nationally for maintaining and improving the quality of Higher Education.

9.

Coordination with Quality Assurance Agency of HEC for guidance and help on all matters related to quality Assurance.

10.

Capacity building of its team through HEC training programs.

11.

QEC is responsible to develop procedures for the following:

1.

Approval of new programs

2.

Annual monitoring and evaluation including program monitoring, faculty monitoring, and student's perception.

3.

Departmental review

4.

Student feedback

5.

Employer feedback

6.

Quality assurance of Master's M. Phil. And Ph. D. degree programs

7.

Subject review

8.

Institutional assessment

9.

Program specifications

10.

Qualification framework

11.

External offices Coordination

12.

Accreditation of all respective Programs

13.

Faculty Appointment Criteria implementation of HEC

14.

Promoting Research in university

15.

Plagiarism policy implementation

16.

Reporting & Focal point for Statistics

17.

Implementation of All other procedures and policies by HEC
Program Team For SAR
Main Directorate of Quality Enhancement Cell
Muhammad Waseem
Muhammad Waseem
Director
Quality Enhancement Cell
director.qec@nca.edu.pk
Naveed Ahmed
Naveed Ahmed
Deputy Director
Quality Enhancement Cell
Muhammad Ahsan Ul Haq
Muhammad Ahsan Ul Haq
Data Analyst
Quality Enhancement Cell
Muhammad Waqar Butt
Muhammad Waqar Butt
P.A to Director
Quality Enhancement Cell
waqar.butt@nca.edu.pk
Academics programs of following departments have been selected from various Faculties, namely Faculties of Basic & Applied Sciences, Engineering & Technology, Management Sciences, Language & Literature and International Institutes of Islamic Economics.
Seminars and Workshops held at NCA
Will be uploaded soon.
Workshops Attended Organized by HEC
Will be uploaded soon.
Downloads